Permanent link
01/12/2010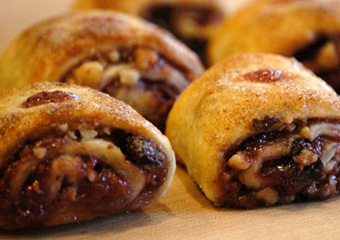 Raspberry rugelach
When I think of the Jewish pastry rugelach, I usually picture my late, silver-haired Russian Jewish grandma—or at least someone's Jewish grandma—flattening dough with her rolling pin in her cozy kitchen. But Leon Greenberg, a low-key, middle-aged guy from Great Neck, Long Island, doesn't look or act anything like my grandma. He dubs himself "The Rugelach Man," and makes rugelach as delicious as that of any grandmother I know.
This summer, Greenberg, a Chicago transplant, launched his internet-based business called "The Rugelach Man"—www.TheRugelachMan.com—creating kosher-style rugelach for the public. Business is going better than he expected, and Greenberg surpassed his year-end sales goal in September. Thanks, in large part, to a Chicago Tribune article that ran about him just before Rosh Hashanah, the Jewish holiday rush was particularly hectic. "I thought I would collapse," he said, "I was drinking Red Bull after Red Bull to stay awake."
Red Bull comes in handy because Greenberg often rents out industrial Chicago kitchens overnight (from 8 p.m. to 8 a.m.) to cut costs. Although he's a one-man show, during the holidays, he got a little help from some chef friends to meet the large demand for his pastries. The rugelach costs $22 for just over a pound, and Greenberg sells approximately 25-30 pounds a week.
Facebook has boosted business for Greenberg. His fan page boasts more than 1,100 fans and some 30% of his sales come from Facebook traffic. Next, he will publish a poll on the site, asking fans to weigh in on how they pronounce "rugelach"—with a short or long "u" sound.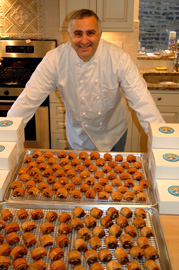 The Rugelach Man at work.
No matter how you say it, rugelach is a traditional Jewish Eastern European pastry that means "little twist" in Yiddish. Baking rugelach is a labor-intensive process, according to Greenberg, compared to, say, chocolate chip cookies, in which the ingredients are cheaper and take a fraction of the time to bake.
Greenberg's rugelach involves many steps. First, he whips up the dairy-based dough with cream cheese and butter. Then, he lets the dough chill and firm up. Once hard, he rolls the dough thin, like strudel. Next, he spreads out the filling, a blend of sugars, spices, cinnamon, chopped walnuts, and raisins, combined with either apricot (the traditional rugelach filling), chocolate, cinnamon sugar, or raspberry flavor. Finally, he rolls up the dough and freezes it.
Greenberg wasn't always "The Rugelach Man." In his former life, he was a mortgage banker, but got out of the business due to burnout. As Greenberg searched for a new path, his girlfriend encouraged him to follow his true passion and go to cooking school.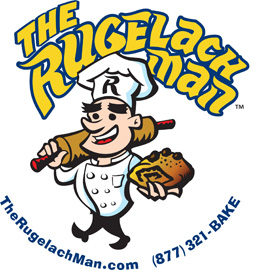 Cooking is in Greenberg's blood. "My mother was a fantastic cook. My sister and I would watch her in the kitchen pick things up over the years—including rugelach," he recalls. Then, in college, instead of going out to eat, he would invite friends over for special occasions, where he would prepare big vats of spaghetti and meatballs and brisket. On Jewish holidays, instead of going to Hillel, his Jewish friends would celebrate at his place over his special holiday meals.
A few years ago, heeding his girlfriend's advice, he enrolled in a fulltime culinary program at Chicago's Kendall College and, simultaneously, got a part-time job as a caterer. On the side, he would make rugelach for his family, including his three children, ages 16, 10, and 8. His kids love "The Rugelach Man" shtick and help him brainstorm new flavors of the pastry, including cookies and cream, banana chocolate chip, and apples and honey, which Greenberg will debut next Rosh Hashanah.
And what does his mother, the person who taught him how to make rugelach, think of his new venture? "She thought I was crazy at first," Greenberg said, "but she thinks it's really something now that it's taken off."
For more information, visit  www.therugelachman.com .