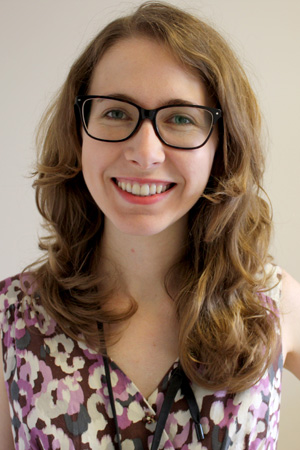 Claire Denton-Spalding has made it her mission to promote human rights in Chicago and beyond. In her work for Mujeres Latinas en Acción, Claire works daily with immigration policy and advocacy to improve the lives of thousands of women. Her unique approach to immigration reform extends beyond her job into informational events designed for immigration allies, and she works with women's rights organizations such as the Illinois Women for Compassionate Immigration Reform.
A 2013 PresenTense Fellow, Claire also serves her community by promoting Jewish learning and supporting Jewish youth. She is a resident and leader of Moishe House Rogers Park where she shapes programming and makes young Jews feel at home. Having converted to Judaism in 2012, Claire is also constantly learning; she embodies her own extensive work in adult education as a participant in Anshe Emet's Gesher adult b'nai mitzvah program. She is fluent in Spanish and was a Fulbright Scholar in Argentina.
"I have no doubt in a few years she'll be managing media relations at a U.S. embassy," said Katie Vogel, a fellow 2014 Double Chai in the Chi honoree who led Claire's Birthright Israel trip. "Young people like Claire are the reason that the Jewish world has a bright future."
Age:
26
Primary gig:
Communications and Policy Associate, Mujeres Latinas en Acción
On the side:
Moishe House resident, Teacher for Graphically Jewish
Relationship status:
Single
How do you give back?
Travel around the world to visit my friends living abroad. Go to graduate school for every subject that interested me from International Public Policy to Botany. Bring the work of comics artists around the world to the United States.
Describe yourself in 10 words or less:
Motivated, curious, hard-working, intelligent, independent, friendly, bookworm, early riser
Celebrity doppelganger/who would play you in a movie:
Maggie Gyllenhaal, if she were blonde
How do you Jew in Chicago?
Since converting in 2012, I have continued developing my Jewish life through worshipping, learning, and living in a Jewish community. I attend services at both Anshe Emet Synagogue and Mishkan. Last June I celebrated my bat mitzvah, a culmination of almost a year's preparation through Anshe Emet's Gesher Program. I live in Moishe House, an intentional Jewish community, where we host Shabbat dinners and other activities to create a strong Jewish community.
Passions:
Biking, cooking, reading, collecting 1970s hippie cookbooks, travelling, antiquing
Chicago's Jewish community in 10 years:
I see a lot of creative trends emerging in Chicago's Jewish community as many people forgo traditional career paths to truly discover their passion. In the next 10 years, I see this dynamic becoming part of the Jewish community that will transform it into a more creative, interesting, and welcoming space.
Me in 10 years:
I would like to be living and working in a foreign country representing the U.S. government or an international organization.