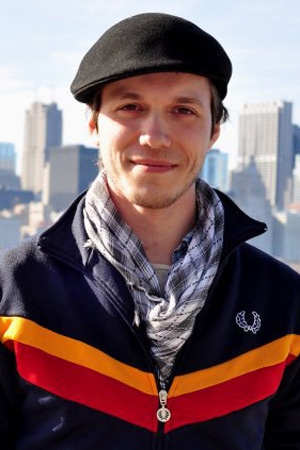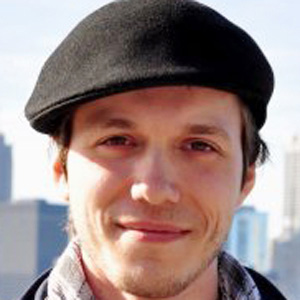 Tristan Hummel is working to make Chicago a beautiful place to be. As curator and project manager for the Chicago Loop Alliance, Tristan helps direct millions of dollars into improving downtown Chicago each year, especially through art. He is responsible for putting art exhibits on moving CTA trains and hosting festivals in empty shipping containers, and he was behind 2012's "Color Jam," Chicago's largest ever public art installation, which coated entire intersections of downtown in colored paint.
But Tristan also cares about who makes the art that he curates. His projects provide financial assistance and opportunities for emerging local artists, designers, architects and urban planners to shine. "He is passionate about connecting with creatives to give them the opportunity to see their dreams come to life for people to see," said Laura Rafson, a fellow curator and friend of Tristan's who nominated him for Double Chai in the Chi.   
"He is compassionate, goal-oriented and welcomes advice from anyone," Rafson said. "I think these qualities are what make someone a strong leader in not only our local community, but also our Jewish community."
Age:
27
Primary gig:
Curator and Project Manager at Chicago Loop Alliance. CLA is the special service area for the central business district (The Loop). We implement an annual budget of $2.5-3 million to provide a high-performing urban environment that attracts businesses and people to Chicago's Loop. We do this through several strategies including large art commissions, street scape improvements (paving, etc.), and homeless outreach/services.
On the side:
I curate and produce art projects for corporate and nonprofit clients that provide opportunities for local artists.
Relationship status:
Married
How do you give back?
Change the name back to "The Sears Tower." Buy my mom a boat. Put art classes back into public schools.
Describe yourself in 10 words or less:
Average height, pinkish, warm, affable 
Celebrity doppelganger/who would play you in a movie:
A young Mark Hamill (aka Luke Skywalker)
How do you Jew in Chicago?
I love my new friends from Birthright Israel. It's given me an opportunity to explore my Jewish identity. We hang out and BBQ or you'll find us at Anne Sathers for brunch. It's a nice relaxed group.
Passions:
Art and Design. I'm really into new technologies with creative applications. Lately that's been 3D printing. I've got a printer at home and travel to various institutions sharing information and ideas on the subject. My hope is to produce a 3D printing service by the end of the year.
Chicago's Jewish community in 10 years:
Stronger than ever. I predict that we will have a Jewish mayor still, a few more Jews on the Chicago Bulls line up (Derrick Rosenburg?) and let's finally get a decent deli downtown (RIP Ada's).
Me in 10 years:
I'll be running my own business and hopefully raising a lovely family