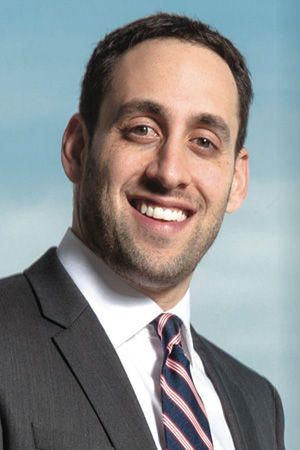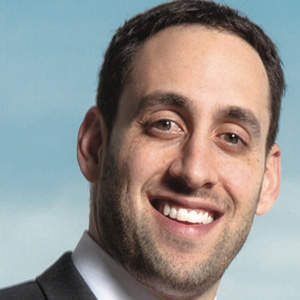 Aaron Galvin isn't just a real estate broker and business owner, he's an "innovator in the Chicago downtown real estate market," according to his wife and business partner, Amy, who nominated him. As managing broker and owner of Luxury Living Chicago Realty, Aaron specializes in high-amenity residential rentals, changing the face of residential leasing by partnering with the city's top real estate developers and investors to quickly and efficiently lease their rental properties through his unique proprietary system. 
Aaron's work ethic and strong entrepreneurial spirit started from the young age of 16, when he became the top hot dog and beer vendor at Cleveland's Jacobs Field. He served as president of the Ohio Northern Region for BBYO and remains deeply connected to the Jewish youth community. He also serves as an advisory board member of the Chicago Jewish Entrepreneurs Forum and attends various Jewish entrepreneur and business functions and programs.  
"I admire his tenacity, passion and integrity both in his personal life and professional life," Amy said. "I see it shine through as he raises our two young daughters. I experience it at work as he mentors our employees. I feel it every day as he finds new ways to challenge and grow himself."
Age:
34
Primary gig:
Managing broker and owner of Luxury Living Chicago Realty, a boutique, luxury real estate brokerage with a focus on residential rentals.  I work with renters looking to live in a full-amenity high-rise building downtown. I also partner with real estate owners, investors and developers implementing my proprietary system to quickly lease private units and multi-family housing developments.
On the side:
I'm dad to Mia (4 ½) and Lana (2 ½).
Relationship status:
Very happily married
How do you give back?
We have always given back and been involved with the community through Bump Club and Beyond. Through charity-based events and shopping nights, monetary donations from ticket sales of our events, drives to collect baby necessities for moms in need, and annual donation fitness classes with our partners, we are always trying to find ways to give back—especially to moms and families in need. We regularly work with Share Our Spare, More than Milk, Health Connect One, Girls on the Run and others
Describe yourself in 10 words or less:
Passionate real estate entrepreneur committed to my family and career
Celebrity doppelganger/who would play you in a movie:
Jake Gyllenhaal – it's all in the eyebrows
How do you Jew in Chicago?
It is important to me that my daughters have a love for Judaism and Jewish youth organizations. I was very involved in BBYO growing up in Cleveland, serving as Regional President of The Ohio Northern Region. Both my daughters currently attend Jewish preschools and summer camps, which I hope will serve as a strong foundation for a connection to their faith.
Passions:
Eating really good food, playing tennis and spending time with my family
If time and money were limitless, I would:
Spend two weeks in Hawaii every year
Chicago's Jewish community in 10 years:
Continuing to grow and thrive and be a top city for Jewish education and advocacy.  
Me in 10 years:
I'll be developing and leasing my own residential projects in downtown Chicago.