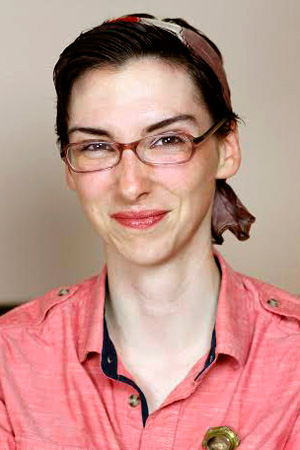 Katie is a big-city social media consultant – and an avid kite flyer, bicyclist, Shabbat host, vegan kosher cook, mikva attendant, recreational statistician and Talmud student. She also happens to be in charge of development and communications at Chicago Women's Health Center, which provides health care and education to more than 6,000 Chicagoans annually.
Katie's commitment to living Jewish values is rivaled by few, namely Miriam the Prophet, your rabbi and the Baal Shem Tov. She studies at SVARA: A Traditionally Radical Yeshiva and is (deep breath) an American Jewish World Service Global Justice Fellow, co-founder of the Chicago chapter of Amplifier: The Jewish Giving Circle Movement, a member of Moishe House Without Walls, a mikvah attendant at Anshe Shalom B'nai Israel and a future mentor for JUF's Diller Teen Fellows. At home, Katie hosts up to 15 people every Shabbat and she's shopping for a table that seats 20.
"Her love of Judaism is infectious, and it informs and is enriched by her love of people and the environment," said Sari Steinberg, Katie's colleague, friend and nominator. "If I could retire and become Katie's assistant, it would be a privilege to assist her in her countless (and ever-increasing) worthy pursuits!"
Age:
28
Primary gig:
Development & Communications Director at Chicago Women's Health Center
On the side:
I'm a strategic planning, social media, and development consultant for small businesses and emerging non-profits, avid bicycle tourist and kite flyer, and a student at SVARA: A Traditionally Radical Yeshiva.
Relationship status:
I am married to my best friend, preferred traveling companion, and the smartest and most compassionate guy I have ever been privileged to know.  
How do you give back?
Move to Outer Mongolia and learn throat singing. I'd give away the rest of the money, because once you're a master throat singer, everything pretty much falls into place.  
Describe yourself in 10 words or less:
Tiny Jewish blur/goes past on her bicycle/off to nourish friends
Celebrity doppelganger/who would play you in a movie:
Stephanie Goldfarb. Ira Glass would narrate the movie. The montage sequence would be nothing short of astonishing.
How do you Jew in Chicago?
Reb Zalman calls it "Jewing," which I really like. This usually looks like davening with independent minyanim, hosting oodles of Shabbat meals, learning Talmud at SVARA, mikvah attending,  learning with my incredible chevruta in West Rogers Park, staffing the occasional Moishe House retreat, hosting people for meals and holidays, supporting Jewish organizations and organizations that support Jewish values, and helping to promote the work of American Jewish World Service. I not-so-secretly aspire to be a professional Shadchan.  
Passions:
Jewish life, bicycle touring, traveling off the beaten path, feminism, small batch bourbon, Russian literature, challah and Middle Eastern pastry recipes, vegetarian kosher cooking, mikvah, Asset Based Community Development, geopolitics, statistical significance, learning languages, Israeli history and politics, the Former Soviet Union, and last, but certainly not least, learning Talmud.
Chicago's Jewish community in 10 years:
The short answer is that it is going to be epic. In my crystal ball I see a revitalized center of Jewish life in East Rogers Park, an inter-generational, accessible, and knowledgeable Jewish community that spans the socioeconomic and geographic depth and breadth of Chicago, and the continued development of a Jewish community that is more inclusive, diverse, and vibrant than anything we can currently imagine.  Oooo, I also see an organic, local kosher dairy making cheese that isn't disappointing due to texture or taste. Stick around, Chicago Jews!
Me in 10 years:
My husband I will take a year-long bicycle tour from Belarus to Beijing with, G-d willing, our posse of kids.  We will also have finally acquired a dining room and table that seats 20.