Permanent link
All Posts
05/22/2009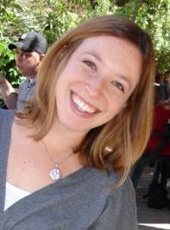 My husband and I recently came to the realization that we are living a cliché.  Some might call it the "American Dream"; we sometimes call it Our Life in 847. 
We moved to Arlington Heights about a year ago.  After renting some one else's condo in Bucktown for a few years, we decided it was time to buy a home of our own.  Our first go-round of open houses in the city was enough to send us scrambling towards suburbia, where the combined salaries of a teacher and non-profit employee stretch a bit further.  Before I knew it, we were closing on a townhouse, saying goodbye to city life, and waving hello to my family, who live about a two minute drive away from the new place.
Two months later, even before we finished furnishing the house, Ruby Latala, an adorable cockapoo, came home.  Friends and family joked that we had the house and the dog – the only thing left was the baby.  I laughed and told them they were crazy.
But suburbia must have seeped into our blood, with its multitude of minivans, good schools and strip malls.  By December, Baby Latala was on the way, and I was looking back over the last six months and wondering whose life I was living.
I loved Bucktown.  We walked to Red Hen for coffee and a treat most Sunday mornings when it was warm outside.  We took the bus and the Blue Line all over the city, sampling restaurants, visiting museums, checking out farmers markets.  I could walk to my closest friends' homes in less than 15 minutes.
Now, Joe, Ruby and I walk to the strip mall Dunkin Donuts on Sunday mornings.  We bought a second car, and we drive pretty much everywhere.  Our restaurant options are a bit more limited, though there are at least three Chili's, three Chipotles and two Olive Gardens nearby. 
Instead of a 15 minute walk to friends' homes, we walk 15 minutes to my mom's house, where we are able to spend time with my brothers, recent college grads who will likely not be neighbors for very long.  And instead of settling for the peeling paint in our rental unit, we have bright, beautiful walls that we are free to paint any color we want.  We have a cute little backyard, where we'll soon be planting flowers and herbs, and where Ruby is free to run around and eat grass.  And best of all, despite my long Metra commute, at the end of the day, I come home to my little family.
Do we miss city life?  Sure.  Would we trade in our little piece of 847 heaven for it?  Not a chance.