Permanent link
All Posts
04/22/2015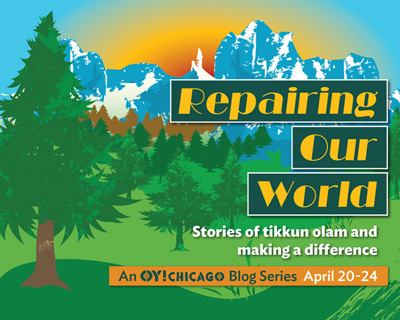 "Would you be willing to donate to the Muscular Dystrophy Association?" I was taught to say holding a can out to shoppers walking out of local stores. Rather than being the shoppers, like most moms and daughters, this was many times what I would do with my mother on weekends. My parents became involved in the organization when one of their friends had a family member suffering from the disease. 
"Why are we picking up people who are waiting for the bus?" I would ask my dad. "Because it doesn't look like the bus is coming for a while and they look like they need a ride," he said, not afraid to pick up strangers. When I learned how to drive, the refrain became, "Go pick up (fill in the name of a person from our synagogue who had no family in the Chicago area) and bring them here for dinner so they aren't alone." 
This is how I was taught to contribute to making the world a better place. 
When I was in seventh grade, I asked to borrow our synagogue's Purim carnival games to host a fundraiser for the MDA (and this was long before mitzvah projects were a bar/bat mitzvah requirement). In high school, I became president of my temple youth group. At the University of Illinois, I became president of Hillel, where I met my husband, Mark. His parents were also involved in leadership roles both in and outside of the Jewish community (a legacy he continues today on the board of Sinai Health Systems and of a senior housing building in our community), and I think that's part of what drew us together.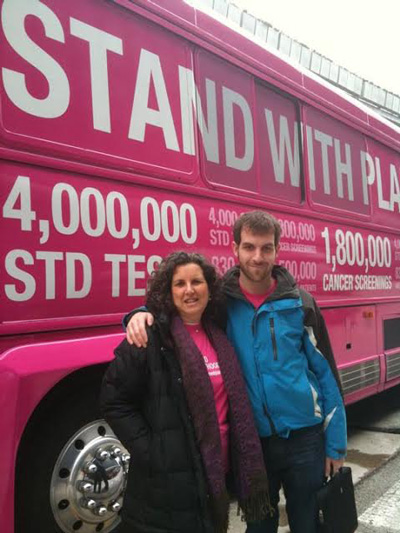 Carla and her oldest son, Jeremy, at a Planned Parenthood rally.
When it was time to choose my profession, I saw my parents, who served as the presidents of many organizations, as examples. I also admired the youth advisors from the organizations I was involved in (USY, NFTY, B'nai Brith). So I decided that my passion was in social work.
For the last 32 years, I have worked for Metropolitan Family Services, one of the oldest and largest non-sectarian agencies in Chicago, and I have the privilege of knowing I've helped at least one person every day. The abused and neglected adults with disabilities and older adults that I serve as supervisor of an Adult Protective Services program sometimes say they prayed for help and I came. That is a pretty nice feeling. Like the old saying, "to the world you may just be one person, but to that one person you might be the world."
I have brought in help for overwhelmed caregivers, cleaned bathrooms so someone wouldn't get evicted, assisted hoarders in making their homes safer, held the hands of people as they were dying and even participated in the mitzvah of burying someone, all as part of my job to make a difference in someone's life.  
Social work is not the kind of job you can easily leave at home, so my children have often overheard me talking on the phone to clients. They would ask me how so-and-so is doing and I would tell them (of course keeping everything confidential). But children observe more than listen, so it was important that we go out and volunteer in the community. Our favorite experiences have been working at the JUF Uptown Café on Christmas Eve, putting together and delivering Maot Chitim boxes on Rosh Hashanah and Passover and making lunches for the homeless before Sunday School (ok, not always fun, but a good learning experience …).  
As someone who was once a young adult and who now has young adult children of her own, I have learned the importance of looking to the generations that came before to see what really matters in life. What has been passed on to us is most likely what we will pass on to the next generation. My children took notice of when their parents and grandparents gave of their time and money, and now I am so proud to watch them bring the Jewish value of making the world a better place into practice in their lives.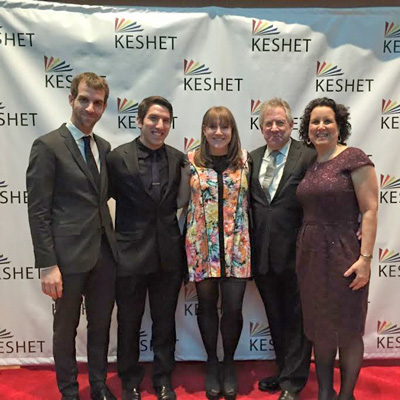 The Frisch family at a 2015 Keshet dinner.
My youngest, whose bat mitzvah theme was "Making a Difference," became involved in activities serving children and young adults with disabilities because of a good family friend with a disability and is now studying to be an occupational therapist for children with special needs. My middle child, an engineer, is on the Junior Leadership Board of Keshet and the Auxiliary Board of Our Place of New Trier Township, both organizations serving those with special needs. Our oldest chose Brandeis University because of its social justice emphasis and worked for Planned Parenthood for four years.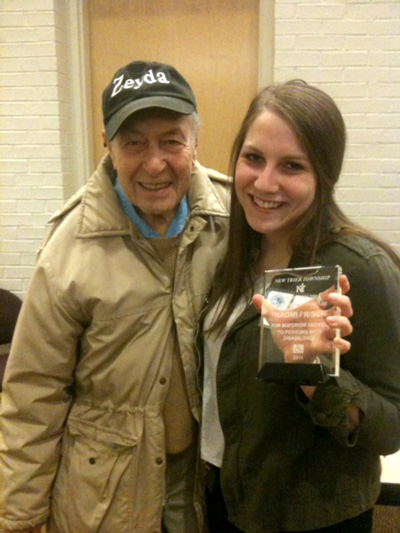 Carla's daughter, Naomi, with her zayde, Lester Jameson (z"l), after receiving an award from New Trier Township for her work with people with disabilities.
This is what L'dor Vador is all about: Jewish values being passed down from generation to generation. There is no better way to make the world a better place than by sharing it with family.  
Personally, I can't wait to see what the next generation brings to the table. 
To read more posts in the "Repairing Our World" blog series, click here.