Permanent link
All Posts
03/19/2014
I know I'm beating a dead horse here, but it has been a long cold December, y'all. I need something to look forward to and this year I'm looking to Passover to help me make it out of the tundra with a smile on my face.
Passover is the first real event of spring. It's usually marked with warmish temperatures, newly sprouted flowers and trees with little baby leaves. Doesn't that sound impossible? I realize that it hasn't been -15 degrees in a while, but my Seasonal Affective Disorder is making me very dramatic. I am so scarred by those frigid days that I am desperate for the warmer and greener ones to come. Ok, I'm not actually sure how warm and green the Passovers of the past have been, but let's pretend for a minute. I need the promise of that dream to bring me to the other side.
I'll definitely be imagining spring this year as we read the Passover story. The concept of "wandering in the desert" reminds me an awful lot of us struggling to get away from this winter. So how can Passover rescue us all?
Personally, I always think of the holiday as my own Top Chef-style "quick challenge." I've decided to let Passover pull me away from weather.com and push me into the kitchen. Maybe you need to do the same? Think of something new that you haven't made with matzo. Don't moan and groan about matzo. If you don't like what you're eating at your seder, now is the time to do something about it. Your dinner doesn't have to taste like a wet cardboard box. Try to surprise yourself with a new dish.
I got very excited last week when the April edition of Martha Stewart Living showed up at my house. She usually has a couple new and interesting Passover recipes. This year she has a Passover Spinach Lasagna. I say give it a try. I made this last night and was pleasantly surprised. Maybe lasagna isn't your thing. That's fine. Try something else. It'll take your mind off of the crazy back-and-forth weather get you ready for spring.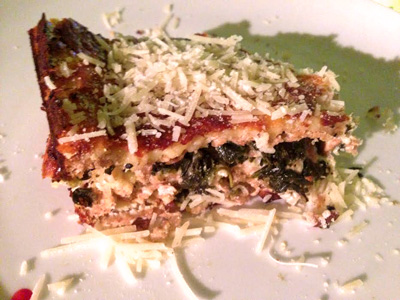 Passover Spinach Lasagna
Ingredients
1 large onion
2 tablespoons of olive oil
2 cups mozzarella cheese
2 cups ricotta or small-curd cottage cheese
4 large eggs
1 ½ cups half-and-half
1 ¼ cups grated Parmesan (about 4 ounces)
1 teaspoon finely grated lemon zest, plus 1 tablespoon juice
1 pinch of freshly grated nutmeg (optional)
1 pound chapped frozen spinach, thawed and squeezed of excess moisture
1 box of matzo (I used whole wheat…it makes me feel like I'm being healthy)
Directions
Preheat oven to 400. Brush bottom and sides of an 8x8 inch baking dish with oil. Chop onion and sauté with olive oil. While your onion is cooking whisk together ricotta, eggs, half-and-half, ¾ cup Parmesan, zest, and nutmeg. Season this mix generously with salt and pepper. In another bowl, toss spinach with lemon juice and season with salt and pepper. Once your onion is cooked…(it should be translucent)…toss that in with the spinach.
Now build your lasagna!
Cover the bottom of your baking dish with a layer of matzo. Pour a layer of your ricotta cheese mixture…about a cup and a half or so. Sprinkle a layer of mozzarella and then add a layer of spinach mixture evenly. Repeat these steps top with matzo and drizzle with remaining cheese mixture and mozzarella.
Bake, uncovered, until puffed and golden brown on top, 35 to 40 minutes and serve.