Permanent link
All Posts
05/23/2012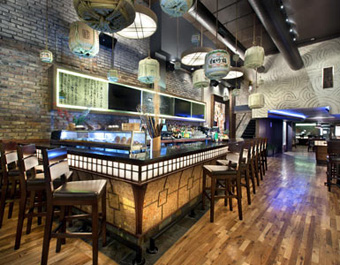 In 1967, Chicago was devastated by a massive snowstorm, the Museum of Contemporary Art was founded, and the Picasso Statue was dedicated in Civic Center Plaza.  What went under the radar was the opening of the alleged first sushi restaurant in the city.  The area in between Division and North Avenues on Wells Street was known as Old Town, and that's where Kamehachi of Tokyo first opened its doors.
The place was an instant hit and was frequented by celebrities and locals who had their first sushi experiences.  While Kamehachi of Tokyo has moved two blocks south to 1400 N. Wells and has opened up four other locations, the restaurant is still booming.
The Old Town location is the original and signature, so making your way downtown could be worth the trip.  By no means is Kamehachi of Tokyo the best sushi or Japanese in the city, however the place is part of our Chicago history so experiencing it before it's too late is worth the try.  Within two blocks of the restaurant are Second City, Zanies, Red Orchid Theater, and several other restaurants, boutique shops, and Kilwin's Fudge.  Although you may not need a reservation, they are accepted.
The new venue at 1531 North Wells Street has more of a modern twist this time around.  You'll walk into a the first floor lounge right off Wells Street and take a seat at a lit up bar with exposed brick and traditional drums hanging from the ceiling.  Fortunately, the upstairs lounge still exists but is only open Thursday through Saturday.  There is now underground dining where it's dark and roomy.  The new location also has space for private events.
First date?  Looking for an inexpensive, expensive-looking meal?  This spot has your back.  The Old Town location while being dimly lit is already known as a romantic first date place.  It is also conveniently located near several CTA station locations.
Looking for comfort food?  For some that may be pizza, Italian beef or mac and cheese.  My comfort food is the Nebeyaki Udon ($13) at Kamehachi.  If you are going for sushi, there are several different types of beginner sushi dinners that come with a chef's choice of maki, nigiri, and sashimi that vary in price but never go over $25.  If you are in for a challenge, order the Sushi Boat, a dinner that takes 45 minutes to prepare.  The challenge is $175 - $200 and features a beautiful array of, well, everything.
The history and Old Town locale make Kamahachi a must visit, at least once.  Next time you feel like sushi, give this place a try.