Permanent link
09/20/2010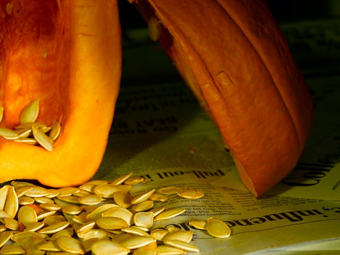 Photo credit Tiffany O'Neill 
Every year I have a love affair with autumn. The crisp air, colorful leaves, moody sky and my favorite produce filling the markets give me an incredible sense of well being. I also love Sukkoth. I like the whole premise of the holiday with harvests and ingathering, but mostly I like the fact that this is a holiday that does not tell me what to eat, only where to eat it.
I love that I can drive down many streets in Lakeview and the northern suburbs and see decorated huts in backyards. I adore the idea of eating outside in homey temporary shelters.
Autumn is also my favorite time of the year to feed people. Everyone is actually hungry. In the summer, people tend to have dainty appetites, but autumn brings out the hunger. Diets are forgotten or temporarily suspended and desire kicks in.
Nothing says autumn or Sukkoth like a good pumpkin. I love the nutty flavor that pumpkin adds to dishes and I use it in soups, sauces and the delicious mousse recipe below. I like to hollow out mini pumpkins and sprinkle the insides with sugar and then fill them with mousse just before serving. Or, you can spoon the mousse into pretty dessert glasses.
PUMKPIN-WHITE CHOCOLATE MOUSSE
1 ½ teaspoons plain gelatin
2 eggs, separated
½ cup canned pumpkin
3 tablespoons brown sugar
1 teaspoon vanilla extract
2 cups heavy whipping cream
9 ounces best quality white chocolate, melted (I like Callebaut— available at Whole Foods)
1. Sprinkle gelatin over 1/3 cup water in a small bowl. Let soften 5 minutes.
2. Stir together the 2 egg yolks, pumpkin, vanilla and brown sugar.
3. Bring 1/2 cup cream to a boil in a small saucepan over medium-high heat. Add gelatin mixture and pumpkin mixture; stir until combined.
4. Put chocolate into the bowl of a food processor. With machine running, carefully pour in hot cream mixture in a slow steady stream, and process until smooth. Transfer to a medium bowl, and cover with plastic wrap. Refrigerate until thick enough to hold ribbons, about 30 minutes. Stir until smooth.
5. Whisk egg whites to nearly stiff peaks and gold into the chocolate mixture.
6. Whisk remaining heavy cream to nearly stiff peaks. Fold into chocolate mixture. Mousse can be refrigerated, covered, up to one day before serving.