Permanent link
06/07/2013
Growing up in Chicago, I have become accustomed to giving into my body's seasonal cravings. In the winter I want "stick-to-your-ribs" food, while as soon as the weather becomes warm, all I crave is to sit outside with a bowl of fruit. Considering Chicago's weather is not all that reliable, our bodies can be confused with what they crave.
These are not the best eating habits. After going to culinary school in the Napa Valley and working as a chef in Chicago for the past five years, I learned how to take my cravings and transform them into something both healthy and tasty. I have figured out how to keep a balanced, low-calorie, high-vitamin and mineral diet and while still enjoying a hot hardy meal in the winter and a refreshing meal in the summer.
While there is always that time to give in to your cravings, why not challenge yourself to eat healthy most of the time?
Healthy doesn't have to mean bland. Learning alternative foods and forms of flavor besides fat and sugar will get you through the entire year, beach-body ready. My personal go-to flavor enhancers are aromatics such as garlic, herbs, and spice. Of course it is dependent on what you are making. Fresh seasonal vegetables are another easy flavor insertion.
As summer begins to settle in, we're bound to have a random 50-degree day in the middle of an 80-degree week, but that's probably not the best time to dive into a large serving of hearty winter foods like spaghetti and meatballs. Here is a guilt-free version featuring zucchini "noodles" so that you can suppress your craving and still hit the beach the next day. You won't trick someone into thinking zucchini is their favorite Italian pasta, but these "noodles" are just as delicious and will get you through your pasta craving.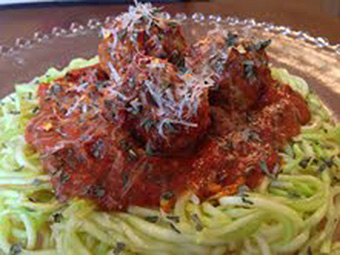 Zucchini "Noodles" and Bison Meatballs in Spicy Marinara 
Serves 4
Ingredients
-"Noodles"-
6 zucchini
2 tbsp. salt
1 tbsp. olive oil
-Meatballs-
1lb. ground lean bison
1/8-1/4 cup olive oil
1/2 cup whole wheat bread crumbs
1 tsp. black pepper
1 tbsp. fresh oregano
1 tbsp. fresh basil
1 tbsp. dried fennel seed
2 tbsp. fresh parsley
1/2 medium onion - small dice
3 large cloves garlic-minced
-Marinara Sauce-
1 (28 oz.) can crushed San Marzano tomatoes
1 (8 oz.) can tomato paste
1 (12 oz) can tomato sauce
1/2 cup olive oil
1 medium onion - small dice
1/4 cup garlic-minced
2 tbsp. fresh basil-torn
1 tbsp. kosher salt
1 tsp. agave nectar
1 tsp. ground black pepper
1 tsp. oregano
1 tsp. crushed red pepper flakes or to taste
2 bay leaves
Preparation
-Meatballs-
Heat olive oil over medium-high heat and add onions and garlic. Sauté approximately 10 minutes, or until translucent. In a large mixing bowl, add in all ingredients (including onions & garlic) and mix thoroughly.
Scoop out and form into approximately golf-ball sized balls and place into hot skillet. Sear all sides of meatball until golden brown. Once browned place meatballs into simmering sauce for approximately 10 minutes to finish cooking.
-Marinara Sauce-
Heat olive oil over medium-high heat and add onions and garlic. Sauté approximately 8 minutes or until translucent. Transfer onions and garlic to a sauce pot and add all other ingredients. Cook over low heat for approximately 1 hour. Add in meatballs and cook over low for about 15 minutes or as needed.
-"Noodles"-
Peel zucchini and form shape by either using a spiral mandolin or a julienne peeler. Once all of the zucchini has been made into the noodle shape place in a colander over the sink and salt, to release water. Let them sit for 10 minutes. When ready to serve rinse salt off of zucchini and place into hot pan with olive oil. Sautee the zucchini for approximately 3 minutes or until tender.
Note: Bison is a great alternative to not only beef but any lean protein such as chicken or turkey. It is extremely tasty, almost identical to beef, but has fewer calories, fat and cholesterol then beef, chicken or turkey. With any ground meat it is important to make sure your butcher is not adding in extra fat. Bison, like beef, can be eaten medium rare.