Permanent link
05/14/2012
Because my first post had absolutely nothing to do with Judaism, and Oy! just happens to be a Jewish blog, I thought I'd give a few recs of Jewish-themed fiction novels that I know everyone will love. If you're not very religious, or even not Jewish at all, don't worry, these are novels that all can enjoy, but do have either Jewish characters or Jewish themes. The summaries are all short and give no spoilers, only a taste of the joy you'll get from reading these books.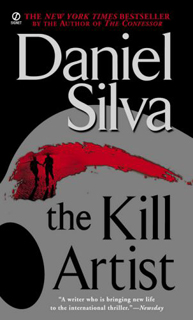 The Kill Artist 
First book in the Gabriel Allon series
Author Daniel Silva
In the first book of this incredible spy series, Gabriel Allon is an operative for a clandestine Israeli intelligence agency known only as "The Office." Able to blend in anywhere and handy with a Beretta as well as a paint brush, Allon poses as a world class art restorer trying to hide from his past until he's drawn back into a life of espionage to fight a Palestinian terror threat. Urged on by his famed Nazi-strangling mentor and father figure Ari Shamron, Gabriel Allon defends Israel and the world against numerous dangers. Throughout the series there are references to Jewish history and culture with Israel at the heart. Add that to the theme of Art and European history and this series could almost be deemed 'historical fiction' if it weren't for the fast-paced, page-turning writing that clearly makes each book a spy novel.
The beauty of this entire series is not just the action, or the exotic European destinations in which the characters find themselves in their attempts to save the world from terrorists of all sorts, but the ever recurring characters that we meet in each novel. I have grown to love all of them to the point where now, when I sit down with the newest installment, I feel as if I'm spending time with old friends. If you like "The Kill Artist," you'll have thousands more pages of these loveable characters to enjoy for a very long time.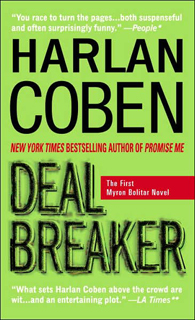 Deal Breaker 
First book in the Myron Bolitar series
Author Harlan Coben
Harlan Coben pens the Myron Bolitar series. The title character, a charismatic ex-Duke hoops star and Harvard Law grad now heads MB Sports Reps, a start-up sports agency with a purposefully small number of clients. Though few, these athletes always seem to get into some type of trouble, effectively mirroring our favorite real-life athletes. Luckily for them, Myron cares so much about his clients' well-being he is willing to go to any length to keep them safe.  In the Edgar Award winning "Deal Breaker" when his newest client, a highly touted rookie QB, receives a phone call from an ex-girlfriend thought to be dead, Myron is on the case. Along with his waspy and wealthy but dangerous sidekick Win (Windsor Horne Lockwood III) and his female pro-wrestler assistant Esperanza, the team goes about their business as if they were detectives, following up on clues and talking to witnesses, often finding themselves in dangerous, life-threatening scenarios in the process. More complex than they seem on the surface, the characters keep their sense of humor, even when showing their underlying insecurities and vulnerabilities. Humorous and action-packed, the entire series will keep you turning pages. "Deal Breaker" has one of my favorite lines from any book or movie. See if you can spot it.
Really the only thing Jewish about these books is that main character is a New Jersey Jew with the stereotypical Jewish parents doting and nudging. Author Harlan Coben himself is Jewish, and holds high rank with me as he donated an autographed novel to my charity event for the Canine Therapy Corps and is also a good Twitter follow (@HarlanCoben). If you're not into sports or reading an entire series, check out one of Coben's many stand-alone mystery novels. All are excellent reads.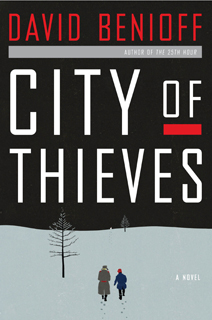 City of Thieves 
Author David Benioff
Taking place during the Nazi Siege of Leningrad in the early 1940's, "City of Thieves" has the most serious plot line of any of the books mentioned here. That said, it's also one of the funniest books I have ever read.  Upon separation from his family, the main character, a Russian Jewish teen named Lev, is forced to fend for himself. And after an unlucky spat with the law, he is imprisoned by the authorities. Given an opportunity to earn his salvation by venturing on the oddest of quests, Lev has no choice but to accept the mission. To succeed means freedom. To fail, means death.  Through Lev, author David Benioff weaves his way through the difficulties of the time period, displaying the atrocities along with the miracles in a manner that can be both heartbreaking and funny simultaneously. It's a must-read for any Jew with ancestry in Russia, which means most of us.
If you recognize the author's name, it may be due to his success in the film industry. His first novel "The 25th Hour" earned him instant acclaim, so much so that he was asked to adapt it into a screenplay directed by Spike Lee and starring Edward Norton. From this stardom Benioff continued his career as a screenwriter for such movies as "The Kite Runner" and "X-Men Origins: Wolverine," taking a brief break from the big screen to release "City of Thieves" in 2008. Benioff's most current success is the hit HBO series "Game of Thrones" for which he shares the role of writer and creator.