Permanent link
11/03/2009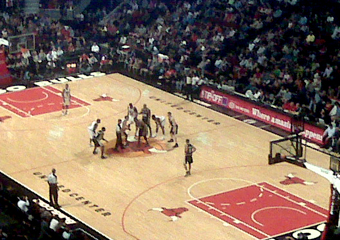 Few things in Chicago these days are trendier than proclaiming, "I love the Blackhawks!" It doesn't matter how much one knows about the game of hockey, either. Many Chicago sports fans who only think a Blue Line is how you get to O'Hare from the Loop in a mere three hours – and sometimes with a fun-filled underground fire! –  have jumped on the Blackhawks bandwagon. I'm a lifelong Chicago sports fan who must have missed the "you must love the Blackhawks" memo. Because while everyone else is pretending to know what the term "original six" means, or making comments like, "you know, that Jonathan Towes can really…um…skate!" my wintertime sports devotion remains where it's always been. I'm a proud Chicago Bulls fan.
I'm lucky enough to have grown up with Michael Jordan. No, not playing college hoops at North Carolina. I can barely dribble, and own a jump shot that can most accurately be described as "challenged." I was actually once asked to never again play basketball in my fraternity. (True story.) But Jordan's rise coincided with a great time for me to be a sports fan. He became legendary when I was in middle school, and the Bulls won their six titles when I was in high school through just after I'd finished college. I must have watched three quarters of every Bulls game during those years. The memories of those titles, and the names of the players who helped bring the team such success remain indelible a stunning eleven years after the won their last championship. B.J. Armstrong, Horace Grant, John Paxson, Steve Kerr, Toni Kukoc, Ron Harper… The list goes on and on.
But for me, the list doesn't end there. I never left the team, no matter how bad they were for the better part of a decade. Names like Dalibor Bagaric, Marcus Fizer, Ron Mercer, and Fred Hoiberg are also burned into my sports memory.  Never heard of these guys? Makes sense; because they were all BRUTAL. And perhaps you didn't stick with the team once Pippen & Jackson left, and they became endlessly down and out.
Well, I did. Year after year. How many current Blackhawks fans can say that? Most alleged Blackhawks fans couldn't name one player after the Belfour/Roenick/Chelios trio went their separate ways.  I don't necessarily blame them for this, either. The Blackhawks were so off the radar in this town that a minor league team began outdrawing them on game nights. That's a lot like your Sport and Social league softball team outdrawing the White Sox on a beautiful summer night. (On second thought, that's probably happened. A lot. Usually when the Royals are in town.)
Over the last few years, while the Blackhawks were playing to a small fan base of angry season ticket holders and teenagers from Schaumburg who showed up a night too early for the Taylor Swift concert, the Bulls have been on the rise. Last year's Bulls/Celtics playoff series, which the Bulls lost in seven games, is already mentioned as one of the most exciting playoff series of all time. (Seven overtimes in one series will do that.) And last year's number one pick, a Chicago kid named Derrick Rose, has the potential to go down in Bulls history as the best player not named Michael Jordan. (This is not to be confused with former Bull Jalen Rose, who will go down in history as having made more money while a freshman at Michigan than he ever did in the NBA.)
I don't mean to come across as anti-Blackhawks, which nowadays is held in a similar regard as working for ACORN. I support our city's NHL franchise. I watched the Winter Classic at Wrigley Field last January, am thrilled they're back on local television for the first time since the Kennedy/Nixon debates, and wanted to see them crush the Red Wings last spring as much as any good Chicago sports fan who loves watching all Detroit teams get their butts kicked. But I'm hopeful that, as another NBA season begins, all of this strange, overdone Blackhawks fever will subside just enough for Chicago fans to realize there's another team who shares the United Center, and has actually won something in our lifetime, that shouldn't be forgotten about. There's no reason why Blackhawks fans and Bulls fans need be mutually exclusive. Tell you what: I'll listen to you tell me why Patrick Kane is "so incredibly awesome," but you have to put up with me comparing Joakim Noah to a young Dennis Rodman; and at least feign interest in the conversation. I know it might be hard to do, but it's the least someone who's been a hard-core Blackhawks superfan – for, what – a year and half? – can do.