Permanent link
11/17/2010
Last Saturday, I competed with my friends in our third annual Scavenger Hunt Day. Every year, two people from our group make up a list, we form teams of 3-5 people, and then become far too competitive.
Scavenger Hunt Day is seriously the most fun day of the year. If you can get enough people to participate, I really recommend you organize one for your friends. We always meet at Keenan O'Reilly's, affectionately known to us as, "Dad's Basement" beforehand so we can drink some Bloody Marys, get the scavenger hunt lists, clarify questions with the judges, and talk trash to the other teams. Most everything on the list is something you have to get a photo of, and there are a few that you have to bring back with you.
The rules:
• Your camera's memory card has to be empty before the hunt begins and only one camera can be used for your team.
• Your team must stay together for the entire hunt. No splitting up.
• You can only use public transportation.
• You have 3 hours to hunt. It begins at 2:15. At 5:15 you have to take a photo of a public clock displaying the time.
• Team must be back at Dad's by 5:45 or you're disqualified.
A sampling from the list:
• Celebrity look-a-likes
• Dance with a stranger
• High five a cop
• Graffiti
• Do exactly what a sign says
• Team jumping in the air, all feet must be off the ground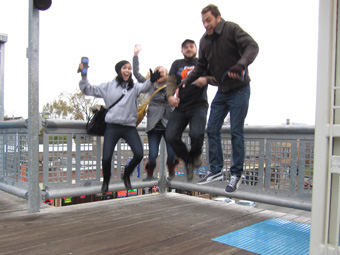 • Things that begin with Q
• Ginger kids
• Entire team in a bathroom stall
• Ugg boots, extra points if paired with a North Face
• Playing an instrument
• Team member on sports equipment
• Round of shots, must have receipt as proof, extra points if it's a round of beers
• Two team members switch clothes
• Team member comes back to the Dad's wearing edible underwear
• Bring back the weirdest thing you can find, weirdest out of every team gets extra points (the winner of this was "Team Ask Us How To Scare Bees" by bringing back a bag of human hair…)
My team, "Team You're Out For A Walk Then BAM We F**k Your S**t," won. Duh. In the end it came down to a 3-point difference between first and second place. What if we hadn't seen that old man at a diner who looked like "Old Man" Marley from Home Alone? We could've lost the whole thing.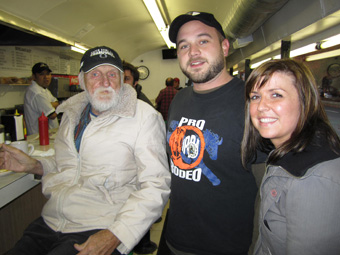 Every person who plays is asked to make a donation to a charity the winning team picks. Run around the city and take shots for charity? Will do. We also won this sweet blow up doll. Saturday was truly terrific. BAM!