Permanent link
All Posts
08/19/2014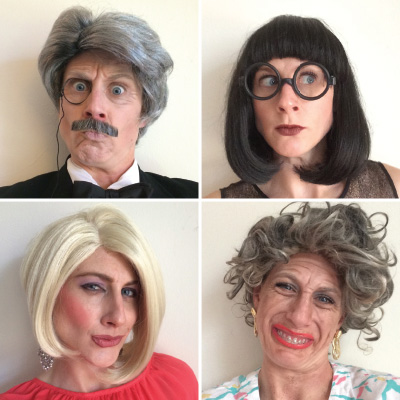 For Meg Grunewald, comedy has many faces. And wigs. And voices.
The Chicago-raised comedian and veteran of Chicago's improv and sketch comedy scene says she has always loved impressions and creating characters, a specialty she has chosen to highlight for the entire month of August in a "character a day" project.
Grunewald has trained at Second City conservatory, iO and the Annoyance Theater, and can most often be found playing weekends at ComedySportz. She also helped found the all-female sketch group Just the Tip, which last appeared at The Chicago Sketch Comedy Festival in January.
Follow megalopolis18 on Instagram to see all her pictures from the character project and check her out on Vine for the six-second video clips. When you're finished you'll definitely agree that Meg Grunewald is a seriously funny Jew You Should Know!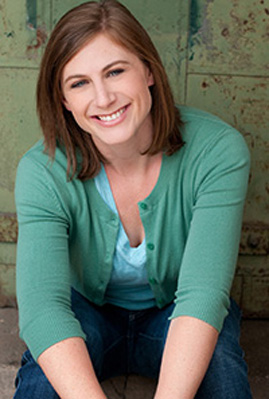 1. What is your earliest memory of a time when it was clear you were destined for comedy?
My earliest memory regarding comedy would be when I would mimic characters from Saturday Night Live. When I would do my impressions, I would make people laugh and that was a great feeling. I loved being able to entertain and brighten someone's day with a laugh.
2. What inspired your "character a day" project?
I was buying wigs for another project and bought a couple more just for fun. When I got home, I started putting these wigs on and playing around with characters. I have always loved to dress up and become someone else; build a story about them and walk in their world. I have accumulated about 20 wigs from various past sketch shows and thought it would be fun to play with them and create an original character for every day of August. I have also done Vine videos for each character to have them come to life for six seconds.
3. Got a good Jewish joke for us or a favorite Jew-ish character to play?
I always love to play old Jewish women and men. The Boca Raton, Florida types.
4. What does it take to make it in this crowded Chicago improv/comedy scene?
Drive. Confidence. Humility. Playfulness. Positive outlook. Manners.  
5. As an '80s and '90s child did Robin Williams inspire you in any way? How would you describe his comedic legacy?
I used to watch Mrs. Doubtfire until I could quote it. The part in the movie when they are going through the different possible looks for his character was always my favorite. I guess my character-a-day was subconsciously influenced by that scene. It is fun knowing there's a movie that has had such a lasting impact on me. Robin Williams was a one of a kind comedian. From voices to vulnerabilities, he was able to commit to it all. And he kept you always on your toes and engaged and that's a very special skill.
6. What do you love most about what you do?
I love that I get to help those around me relax and breathe a little with humor. Also... when you get a whole group's focus and attention because you're being funny, that's a pretty great feeling.
7. In an alternate universe where you couldn't do comedy, what would you do?
I think I would be a detective or something involving the solving of crimes. I love crime shows and information about prisons and the prison culture.  
8. How do you Jew in Chicago?
During the high holidays, I attend Miskan with my mother. My family also celebrates some holidays at home. I am looking to figure out ways to "Jew" more in the next year.