Permanent link
All Posts
04/10/2012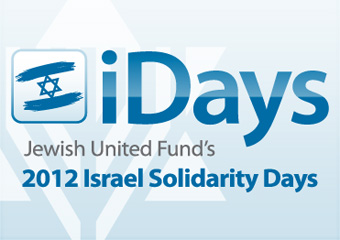 For more than 30 years, JUF has hosted Israel Solidarity Day, Chicago's largest community-wide event celebrating Yom HaAtzma'ut, Israel's Independence Day. This year, the annual festivities are being transformed into iDays—more than a dozen different events, geared to a variety of interests and geographic areas, from April 26 through May 14. The change gives more people more ways to celebrate Israel.
"JUF's iDays is Chicago's celebration of Israel@64. From bar nights to lectures to events specifically for teens and families with young children, iDays brings together Jews from across the Chicago area to stand with our community and support Israel, our Jewish homeland." David Sherman, Chair, 2012 Israel Solidarity Days
To learn more, download JUF's iDays app on your mobile phone for calendar of events, up-to-date information and iDays discounts!
How will you celebrate Israel@64?
iGive 
Your gift on Israel's 64th birthday will provide Israeli children with the supplies they need to enrich learning and literacy.
iFamily 
Spend a day of Israel-themed family fun in one of six communities across Chicagoland at Israfest on Sunday, May 6! This program is best suited for children ages 12 and under.
iTeens 
Teens can mark Israel@64 on May 6 with a journey through Jewish history-"Look Back, Walk Forward: Teen Walk with Israel," a 2012 J-Serve Project. The day begins at the Illinois Holocaust Museum in Skokie with a heartfelt program with Holocaust survivors, followed by a Walk with Israel from the museum to the Mayer Kaplan JCC and culminates with a joyful Israel Solidarity event. This program is offered to teens in 8th-12th grade only.
iGather 
Grab your Israeli flag, don your blue and white, and join us for a Yom Ha'atzmaut celebration in Daley Plaza on Thursday, April 26, featuring Re-Vital Israel Theatre Dance Group, one of Israel's most renowned dance companies. 
iCelebrate 
The party continues on April 26 at Joe's Bar for JUF's Young Leadership Division's Blue & White Bar night: A Night in Tel Aviv.
iLearn 
Several lectures featuring Israeli academics and authors and movie screenings will take place during the three-week celebration.
iNetwork 
Spend an evening networking and hear from American diplomat and author Dennis Ross at the Trades, Industries & Professions Educators and Medical Professionals Divisions Dinner on Thursday, May 3.
iVolunteer—TOV 
JUF needs volunteers on Sunday, May 6 for both IsraFest and the Teen Walk With Israel! Volunteers are needed for a variety of important positions to make the event run smoothly. All iDays volunteers will receive a complimentary TOV t-shirt.
For more information, visit www.juf.org/iDays or download the JUF iDays app from your phone at http://idays.juf.org/.