Permanent link
All Posts
Propelled to fame by an Apple commercial, the "New Soul" singer heads to Chicago
10/13/2008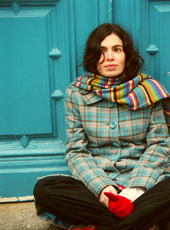 Yael Naim, constantly happy
Yael Naim isn't upset about being known as, "the chick that sings the song in the Apple commercial." Instead, the Israeli-raised, Paris-dwelling singer/songwriter is grateful. "You can't be unhappy if people know only one song, I'm so happy and I'm thankful for every good thing that has happened," Naim says.
And lots of good things have happened to her since the song, "New Soul," popped up in the ad last January. I called Naim in her Paris apartment 10 days before she set off on her US tour—which includes an October 23 stop at Chicago's House of Blues.
"One week after the commercial first played, we were number one in single downloads in the US. But the album was in the top five, so we could see that people were also curious about the rest of the songs too," she says.
It's hard to pinpoint what exactly hits people about "New Soul," but I have seen it happen dozens of times myself: The MacBook Air commercial comes on, the noise in the room drops and people listen. Some describe it as "haunting," but to me, "New Soul" sounds more like light on water—joyful, pretty and simple.
An Israeli in Paris
When she started writing the songs that would become the album Yael Naim & David Donatien, Naim was homesick, fighting through a transitional period, and the down tempo feel of most of the album reflects this mood. But "New Soul" is different. "All of these other songs on the album were written in a melancholy period, only "New Soul" was written while David [David Donatien music partner and co-collaborator on Naim's album] and I were working on the album—and that was such a happy period," she says.
"New Soul," Naim says, is about looking back at that darker time. "Before, I thought I was an old soul and that I knew life. But [having come through adjusting to my new life in Paris] I realized that I don't know much about life and it's probably my first time on earth, so I am a new soul. I have realized that nothing has to be so perfect—it's okay to have a lot to learn."
And while it may seem that Naim came out of nowhere, the 30-year-old artist has been learning about music and life since she was a child in Israel.
As a high school student in Tel Aviv, Naim went to see jazz great Wynton Marsalis at a club the city. She found a fan in a saxophone player from Marsalis' orchestra and every time he appeared at the club, he brought her up to sing jazz standards.
After high school, she continued her career as a soloist in an air force musical troupe in the Israeli Defense Forces. During that two-year stint, she performed a few benefit concerts in Paris and was discovered by a French producer. In 2001, EMI released her first record, In a Man's Womb. The album didn't sell and Naim, filled with doubt, was lonely in Paris, removed from her life in Israel, her family and her then boyfriend.
It was that homesickness that inspired her to begin writing in Hebrew and ultimately led to her current success. "It was only when I was in Paris that I missed home and felt the need to reconnect with Israel; I found myself writing in Hebrew for the first time. It's a very intimate language," Naim says. "Paris," the first song on the album is sung in Hebrew—a purely artistic decision. She assumed, because of the disappointing results of her first record, it would only be heard by an intimate group.
Yael Naim's Sweet, Happy Life
One of the first people to hear that song, as well as about 200 others she'd been working on, was West Indian drummer, David Donatien. The two started playing together and he encouraged her to continue writing in Hebrew. "I wasn't thinking about [whether Hebrew songs would appeal to a French audience] because I never thought the song would be in an album and then, even while working on the album, we didn't think it would be released in Paris. We had something to say and didn't think about whether it would work, to tell you the truth. David and I recorded the music as we liked without compromise to connect to people," Naim says.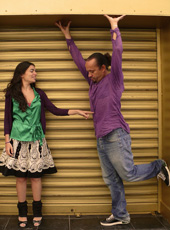 Yael and David bringing music to the masses
She describes the time working on the album as, "three and a half years of constant happiness." She and Donatien would get started playing and recording around 11 am every day and then, in the evening, friends—musicians and artists mostly—would drop in and out of her house, she'd make something to eat and they'd talk about music. "It was an amazing time and a dream come true because I could be at home with friends and music all day."
This fun, bohemian atmosphere comes to life in the video for "New Soul," which reflects the blissful time she experienced making her album. "My experience with my first album made me not expect anything. Usually you have huge expectations or you're worried about money or pleasing a music company and so you don't always follow your heart," she says.
Despite her success with this album, Naim says that she will not let the pressure to be commercially successful creep back in when she and Donatien, who she is quick to say deserves as much credit for the album's success as she does, finally get the chance to get back to recording new music next January.
"I see that taking the time and doing what you love really works. It was a great lesson not to think too much. I know that life is sometimes up and sometimes down so even if the next album isn't a huge success, it'll be okay," she says.
See Yael and David perform live October 23rd at The House of Blues—and get discounted tickets from Club 1948!